2022 Heckerling Round-Up!
April 20, 2022
@
4:00 pm
–
5:30 pm
EDT
Jonathan G. Blattmachr Esq.
,
Abigail E. O'Connor Esq.
and
Martin M. Shenkman Esq.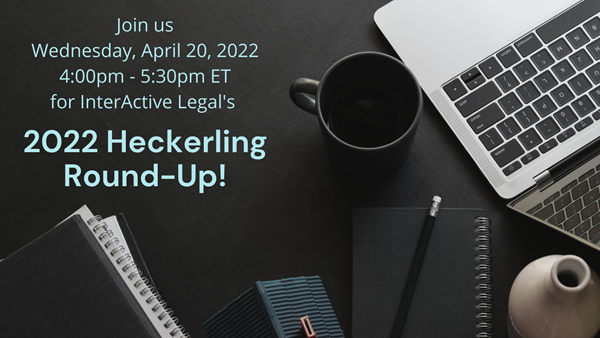 The 56th Annual Heckerling Institute of Estate Planning took place at the end of March, and as we have in prior years, InterActive Legal is proud to present its yearly round-up of the best topics that were discussed. The Heckerling Institute on Estate Planning is the country's largest and leading conference for estate planners, attorneys, trust officers, accountants, financial planners, insurance advisors, and wealth management professionals. This year we are honored to welcome attorney Abigail O'Connor, who will join Martin Shenkman and Jonathan Blattmachr to recount the important takeaways from the 2022 virtual conference. In this webinar, Abby, Marty, and Jonathan will provide a 90-minute analysis and review of the week-long proceedings along with valuable materials summarizing this year's Institute.

Topics at the Institute included: recent statutory and regulatory developments (including pending legislation); recent important cases; modification of irrevocable trusts; the new SECURE Act proposed regulations; elective share and other marital property issues; partnership taxation, ethical and diversity issues in estate planning; cross-border estate planning; and so much more.

This presentation is not produced in conjunction with or endorsed by the Heckerling Institute on Estate Planning, and the Heckerling Institute is not responsible for its content. For information about the Heckerling Institute, including the 2023 conference, visit www.law.miami.edu/heckerling.
We look forward to seeing you there!
---
Continuing Education Credits
InterActive Legal is not an approved Continuing Education (CE) Sponsor. However, several states and regulatory agencies for a variety of professionals that participate on our teleconferences may still receive continuing education credit for their participation. If a participant wishes to receive CE credit for their participation in these teleconferences, they must apply to receive credit on their own and through their individual states and regulatory authorities. It is the responsibility of the participant to file for CE credit and is not guaranteed by the webinar sponsors.
---
Speakers

Mr. Blattmachr is a Principal in ILS Management, LLC and a retired member of Milbank Tweed Hadley & McCloy LLP in New York, NY and of the Alaska, California and New York Bars. He is recognized as one of the most creative trusts and estates lawyers in the country and is listed in The Best Lawyers in America. He has written and lectured extensively on estate and trust taxation and charitable giving.
Abigail O'Connor is a trust and estates attorney in private practice in Anchorage, Alaska. Her practice focuses on estate planning and trust administration. She is a Fellow of the American College of Trust and Estate Counsel, Vice President of the Alaska Trust and Estate Professionals, Member of the Executive Board of the Estate Planning and Probate Section of the Alaska Bar Association, and President of the Anchorage Estate Planning Council.
Martin M. Shenkman is an attorney in private practice in Fort Lee, NJ, and New York City.  His practice concentrates on estate and tax planning, planning for closely held business, and estate administration.  Mr. Shenkman is an author of over 42 books and more than 1,000 articles.  He is an editorial board member of Trusts & Estates Magazine and the Matrimonial Strategist, and an advisor for InterActive Legal.  He is the recipient of many awards including being a 2013 recipient of the prestigious Accredited Estate Planners (Distinguished) award from the National Association of Estate Planning Counsels.  Mr. Shenkman was named Financial Planning Magazine 2012 Pro-Bono Financial Planner of the Year for his efforts on behalf of those living with chronic illness and disability.  Investment Adviser Magazine featured him on the cover of its April 2013 issue naming as the lead of their "all-star lineup of tax experts."